Products
| | |
| --- | --- |
| Click to Dial | |
Asimut C2D
What is it?
Asimut Click-to-Dial is a proprietary .NET Framework for web based and desktop based client applications for the Avaya Application Enablement Services.
The framework supports:
Device Control
Media Control
Call Control

The Asimut C2D Framework is provided with a web based interface that provides basic call control functionality:
Make a call
Conference a call
Transfer a call
Terminate a call

The call control functionality can also be leveraged by custom client applications by accessing the Asimut C2D Web Service or by referencing the Asimut C2D Javascript proxy from an existing java or .Net business application.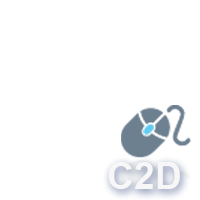 Asimut C2D current product offering.
The Asimut C2D product is a web based interface that allows agents in a call center to perform outbound call off predefined list of customers. This lists or jobs are created trough the Asimut Management portal.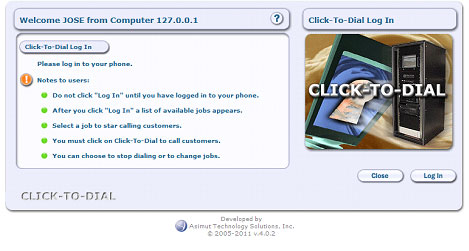 Customers can upload a list of customer to call through the Asimut C2D via the Asimut C2D Service. This service monitors a file location where files can be drop at any time during the day.
The files are loaded into the Asimut Management portal database where administrators can create jobs based using selection criteria driven off the calling list columns.
Once the selection criteria are run and the job is started, agents can logon to the Asimut C2D interface and join any C2D job. Asimut has developed an algorithm that guarantees that accounts assigned to agents are never repeated.
In addition, only accounts that fall within valid time zones are assigned to agents. Customer can also provide kill files to remove accounts from any running jobs that should not be called. Kill files can be dropped at any time in the file location monitored by the Asimut C2D Service. From the management portal Administrators can perform the following tasks.
1. Create, edit, start and stop a C2D job.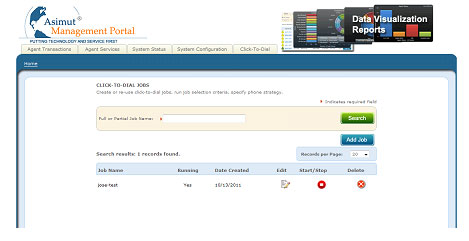 2. Run selection criteria.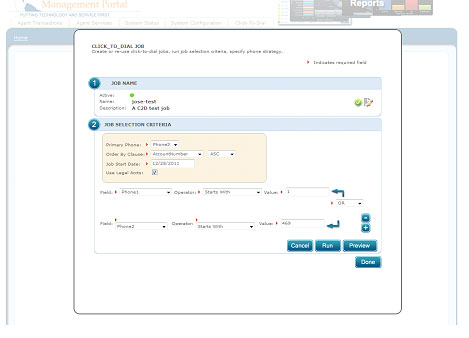 3. Sort the job list by any of the call list fields
4. Verify Call List and Kill File uploads.
5. Monitor job statistics, calls made, call pending, accounts by time zone, accounts by disposition codes.
6. Number of agents connected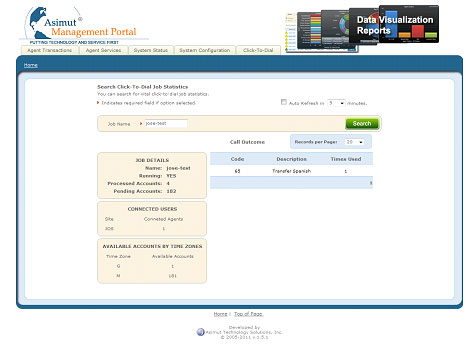 7. Basic agent statistics reporting, call duration, call outcome.
The Asimut C2D interface in addition to the call control capabilities can perform logging to third party data repository.
Click here for a detailed list of features.
Product Licensing:


1. Currently we offer a per server licensing scheme where each server can support up to 400 concurrent C2D agents.



Systems Requirements / Deployment:


2. Windows server 2003/2008 32/64 bits supported
3. SQL Server 2005/2008
4. AES Server access.
5. Sufficient TSAPI licenses to support planned concurrent number of users.